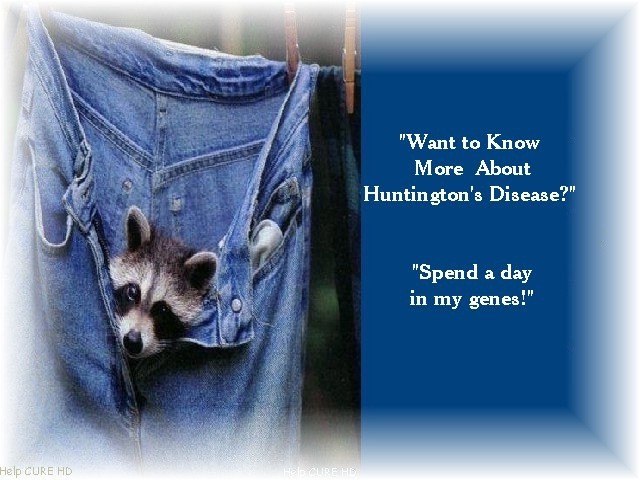 About The Contest:
The HDSA annual Huntington's Disease Convention will be held in Columbus, Ohio May 31-June 2, 2002.

The 4th annual Hunt-Dis get together will be Thursday May 30th. This year a T-Shirt contest will be held to raise funding for the 2003 Hunt-Dis Scholarship Fund.

Anyone, any age, can participate by designing a t-shirt using the above groundules which reflect promoting awareness to Huntington's Disease.

The results of the contest, including a picture of the winning design, will be reported here after the convention!
Put on your creative thinking cap and HAVE FUN!
Get the whole family involved!


T-Shirt Design Rules:
1. All shirts must an extra large t-shirt, your choice of color.

2. All shirts must include the following information somewhere on the shirt: "Columbus, 2002", and "Hunt-Dis"

3. Anyone can design your entry.

4. Any medium may be used from Sharpie Marker to Computer designs.

5. You must be willing to auction and give away your shirt if it is voted the best shirt.

6. All monies donated/voted will go towards the 2003 Hunt-Dis scholarship fund

7. Basically, anything goes as long as rule #1 is followed. (Good taste/language is expected)

8. The winning shirt will be auctioned at the end of the contest.

9. Please, only one entry per person.

How Voting Works
-Those in attendance will vote on the BEST shirt by donating one dollar for each vote.

-The shirt getting the most donated on its behalf will be declared the winner.

-If you're not attending the convention, you can STILL enter by designing your shirt and mailing it to Dave Hodgson to be received by May 25th. May your design to:

T-Shirt Contest c/o
Dave Hodgson
1526 Applegate Dr.
Naperville, Il 60565