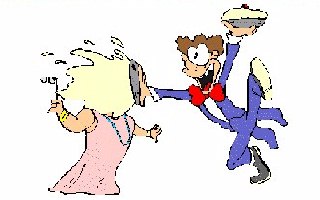 YOU ARE HAPPILY INVITED TO: The First Annual Hunt-Dis Pie-In-The-Face Contest May 30, 2002!
Committee members of the Hunt-Dis Conventions Scholarship Fund (HDSF) seem to be always hounding everyone to support this important Fund through several items we've offered to raise funds.

Some of you would probably just love an opportunity to retaliate for all this hounding!! Well this year you CAN have that opportunity................with the First Annual Hunt-Dis Pie-In-The-Face Contest!

You can "vote" on the person you would like most to see get a pie-in-the face by your donation. I.e. the top three committee members with the most amount of "votes" will be the ones who will get a lemon meringue (or something equally messy) pie thrown in their face on May 30th!+

Following are your HDSF Committee Members

Dave Hodgson
Sue Leck
Shana Martin
Jean Miller
Gerleine Schoonover
Megan Younger
Lou Wilkinson

If there is one of your committee members that you would just LOVE to see get a pie-in-the face please send your vote for who they are along with any amount you would like to donate to:

"HDSF" c/o
Dave Hodgson
1526 Applegate Dr.
Naperville, Il 60565


Remember........each dollar gives you one vote. There will be a "1st", "2nd" and "3rd" place "award" of a pie in the face ..........so there is a chance of about 50% of us getting a pie in the face!

If you are unable to attend the convention this year, you can still vote! We will draw numbers from the Hunt-Disers present who voted to pick someone to throw the pie and there will be a lot of pictures taken and posted to a website after the convention for you to "witness" this event!

The Hunt Dis Pie-In-The-Face Contest will be held at:

Big Bar on Two
2nd Floor Columbus Hyatt Regency
4:30 P.M. Thursday, May 30th.

Our annual get together will start in this same room right after the pie throwing event!